What is Cupping?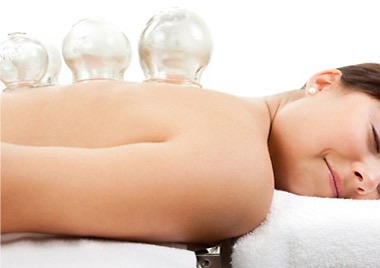 Cupping is a practice used by many different people throughout the world in places like India, China, Africa, the Middle East, and the Americas. Cups made of glass, bamboo, or other like materials are applied to create suction on various locations on the body.
This suction pulls stagnant blood, lactic acid, and other toxic elements to the surface of the skin.  As these elements disperse, oxygen and nutrients are able to soothe muscle tension; allowing tissues to repair and heal.
Why Cupping?
Cupping increases blood circulation to a targeted area of the body.  This stimulates the body to heal and repair the local tissues which reduces pain, decreases inflammation, creates better circulation, and makes for longer lasting improvement.
Cupping can be used as a stand-alone modality, but more often is used as an adjunct to acupuncture in a treatment. It is a needle-free alternative for those who prefer treatment without needles.
Cupping:
Deeply relaxes muscles to reduce pain
Promotes healthy circulation & oxygenation of tissues
Reduces tension like massage, but results can often be more long-lasting
Opens breathing passageways: Extremely effective for asthma and bronchitis
Is incredibly calming to the nervous system.
Patients love the relaxation and the benefits of cupping so much, they put up with the temporary marks cups leave for the week after treatment . . .
Cupping is very effective in treating:
Neck, Shoulder, and Back Pain
Numbness in Arms and Legs
Sciatica
Anxiety or High Stress
Asthma, Bronchitis, Lung Inflammation
Childhood Illnesses (use cups instead of acupuncture needles)
Common Cold and Flu
Tension Headaches
Insomnia
Ready to get started?
Click here or call 707-528-7696